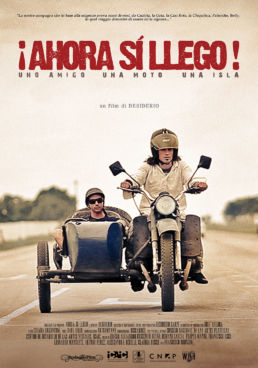 ¡AHORA SI LLEGO!
Two friends, an old Ural, and Cuba as you've never seen it.
Language Original version spanish
Subtitles Italian, English.
Runtime 96 min
Extra contents Trailer, Ahora si caracol, Ahora si bailo, Ahora si corto, Ahora si duermo, Ahora si remolco, Ahora si già
&nbsp
¡Ahora si Llego! Is the first road movie set in Cuba. Directed by the Italian Artist Desiderio, it is a dreamlike and quixotic pilgrimage across the lesser-known Cuban provinces.
---
read more/watch the trailer
A rickety and poetic journey inspired by the one undertaken by the young Che Guevara together with his companion Alberto Granado. Riding a motorbike that needs continuous repairing but never lets them down, with few resources and means, over the mud or under heavy tropical rains, Desiderio and his friend Josè Balboa embark on a journey with a documentary stile and a visionary soul to explore the most remote artistic realities of the island.