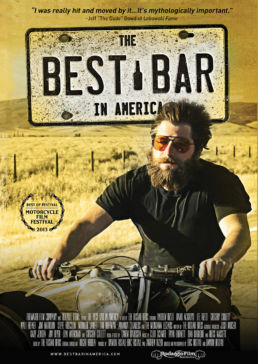 THE BEST BAR IN AMERICA
Out of stock
10.000 miles, 64 bars, an old BMW with a sidecar, and a lot of drunk wisdom.
Languages English
Subtitles Italian
Runtime 88 min
Extra contents: Deleted scenes, Behind the scenes and "The Winter Rider" short film.
Out of stock
&nbsp
Seen by many as the new film on zen motorcycling and bar hopping, "The Best Bar in America" is considered a cult film among the new generation biker movies.
---
read more/watch the trailer
Winner of the Best of Festival prize at the 2013 Motorcycle Film Festival, "The Best Bar in America" is an adventurous and ironic odyssey through and beyond the mythical West. Fantastic landscapes and picturesque locals for hardcore drinkers, a writer on the run who has the demanding task of writing a guide on all the bars from Arizona to Montana. A road movie to the core, a journey in pursuit of the link between motorcycle culture and drinking. A title that every motorcycle lover should have in its own video collection.