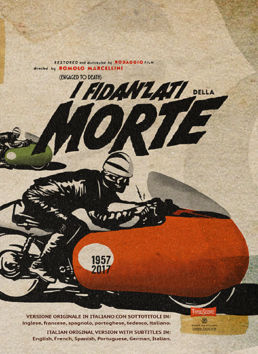 I FIDANZATI DELLA MORTE – ENGAGED TO DEATH – DVD
The first big movie on motorcycling is brought to new life in a restored edition on its 60th anniversary.

Featuring 50s real races and motorcycle champions Geoff Duke, Bill Lomas, Libero Liberati, Walter Zeller, Pierre Monneret and many others.
Language Italian (OV)
Subtitles English, French, Spanish, Portuguese, German, Italian.
Runtime 88 min
DVD Extra Contents Trailer, Interviews and videos with Giacomo Agostini, Carlo Ubbiali, Paul d'Orleans, Melissa Holbrook Pierson, Roberto Totti, Livio Lodi
&nbsp
Rediscovered after 60 years of oblivion, "I Fidanzati della morte" is a unique film in its genre, a testimony of the golden age of international motorcycling and of an extraordinary season for the italian leading bike manufacturers, for its innovations and races in the electrifying world of two wheels.
---
read more/watch the trailer
A tale about rivalry and burning passion set into the madcap world of races and shot during the most important competitions of the '50s, such as the Monza's Moto GP and the last edition of the legendary Milano-Taranto race. Along popular actors such as Rik Battaglia and Sylva Koscina, the film stars many of the best champions of the period: Geoffrey Duke, Libero Liberati, Bill Lomas, Enrico Lorenzetti, Reg Armstrong, Stanley Woods, Ken Cavanagh, Dickie Dale, Keith Campbell, Pierre Monneret, Albino Milani, Walter Zeller, Bruno Francisci.